The decision has been made to create a new army for Warhammer 40,000. Now, whether this is your first list, or your hundredth list, in my opinion the process remains much the same.
In the first post of this series, we formulated a rough list of criteria required for a "competitive" list in Warhammer 40,000. The second post of this series we discussed inspiration for a new list. There are many places to gain inspiration for your list concept, but once you have honed in on something which garners your interest, it is almost time to start putting points on paper.
In this third post of the series, we're going to discuss taking this list concept and begin making it a cohesive and well thought out build.
First, let me take you on a little trip back to 1994…. I was already deeply interested in Warhammer 40k, building my Eldar force up one model at a time. My friends and I were the prime age for Warhammer, just young enough to where we couldn't drive or have real responsibilities, but old enough to grasp and understand the game itself, and earn some cash helping our folks.
Well, one of my friends at that time was a big Space Wolf fan, and from that point on I also was a Space Wolf fan. Fast forward 20 years, and I find myself will a pile of 2nd edition era space wolf marine bodies, a couple boxes of unopened Thunderwolves, and a brand new codex release. Well, I'm hooked.
This brings us to the current times, and my need to show Leman Russ my worth! I have decided I want to build a Space Wolf force based on the Thunderwolf cavalry. They are absolutely devastating in the current edition and in the current meta as well, so they're a natural choice.
I have recently purchased an Imperial Knight Errant, and got him all painted up fancy, so I want to include this beautiful model in my list.
Iconic Space Wolf armies include Drop Pods… why should my list be any different? I also need some units to give my opponent some target saturation issues as my thunderwolves close in, so these units will work perfectly for this.
I already know there are going to be issues when facing fliers, so depending on points, I may try to get a stormwolf in there as well.
Thunderwolves, Drop Pods, Stormwolf, Knight Errant… go!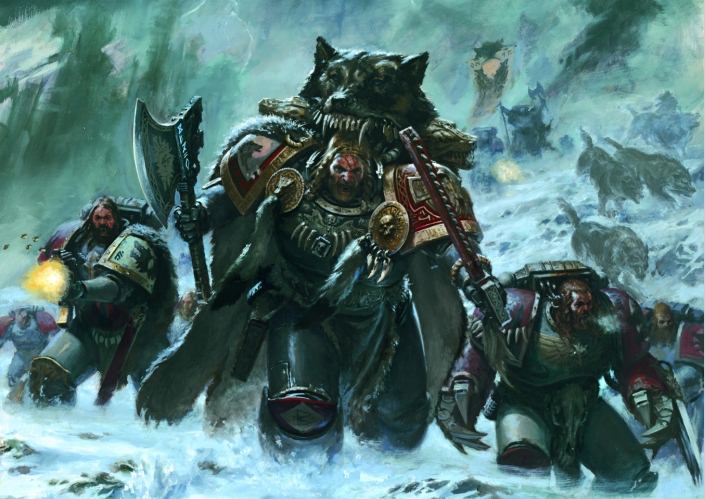 Before I even build a list I begin researching the units I want to take. Finding out how others use these units is a good way to see what may or may not work for me personally. So I scour the internet, hitting up forums, blogs, battle reports, anything about playing Space Wolves, especially playing Thunderwolves will get absorbed and will weigh into my decisions.
Now, let me say that I regularly play in tournaments, and my local meta is very competitive, so I am able to get a lot of practice in against some of the top players in the country. This gives me the ability to experience some of the most lethal combos in the game, as well as get tips and yield wisdom from these players as well.
I recently attended a tournament which featured 20 players. In this tournament, I faced no less than 3 Thunderwolf based armies in 3 rounds of 40k! These armies were built similarly, but with subtle differences which made a big difference in the battles themselves. I won 2 of those games on that day, so I also have a good idea on how my opponents will address my thunderwolf list.
In the next post in this series we will look at the exact army list I have come up with, and discuss why I have selected these units, and the specific upgrades I chose. We will discuss how my research and experience influenced my decision making, and we will also review this list and critique it based on the Criteria we outlined in the first post.
You should begin to see how unit synergy can help to cover multiple roles in an army, and how having overlapping skill-sets, or specialties will help the redundancy and reliability of your list. There are many subtle differences between your list and someone else's list and these are the details which can take you from mid-table obscurity to top table glory.
Until next time…
Keep rolling them 6's!!!